PREMIUM STONE ENGRAVING SERVICES For Modesto and TURLOCK ,California area
PREMIUM STONE ENGRAVING SERVICES IN
Stockton, Modesto, Tracy and TURLOCK ,
California Metro Areas
When you lose a loved one, it feels like the world's weight is on your shoulders, and it can be hard to find the right things to memorialize them. One way to do it is by having a memorial stone engraved with their name and dates of birth and death; this will help you remember them every time you visit the cemetery.
If you're looking for premium stone engraving company in Modesto, Stockton, Tracy, Manteca, Turlock and Patterson ,California areas, Forever In Stone,  professionals can create a beautiful and lasting custom monuments that will honor your loved one's memory. We understand how difficult grief can be, and we're here to help you through this tough time. Stop looking for "headstones near me", We have everything from flat markers, bench, upright, and bronze markers to other stone product services! We specialize in Lakewood Memorial Park, Hughson; Parkview Memorial Park, Manteca; Good Shepherd, Salida; Ceres Memorial Park; Burwood Cemetery, Escalon; Citizens, Oakdale; St. Johns, Escalon; Valpico and Tracy Public Cemetery, Tracy; All the Modesto Scenic Cemeteries; Turlock Memorial Park; Winton Public Cemetery; Hilmar Public Cemetery; and Hills Ferry, Newman. We service an area roughly from Sacramento to Fresno and the Bay Area to Sonora. 
FIND PREMIUM PRODUCTS
& SERVICES WITH US!
At Forever In Stone, we don't just make products – we design and engrave memorials for your beloved ones. We know that every life is unique and deserves to be commemorated in its way. With our attention to detail, we can create a custom monument that accurately reflects the life of your loved one.
At our stone engraving company, we're ready for any custom monument request that you may have. We also provide a variety of headstone options, including flat markers, bevel, slant, upright, bench, and bronze markers. All our products are in a variety of colors, from blue pearl, Bahama blue, India red, and medium grey, to sierra white, standard grey, black and more.
Whether you're looking for premium boulder designs, pet memorial headstones, or concrete inscriptions, we have you covered!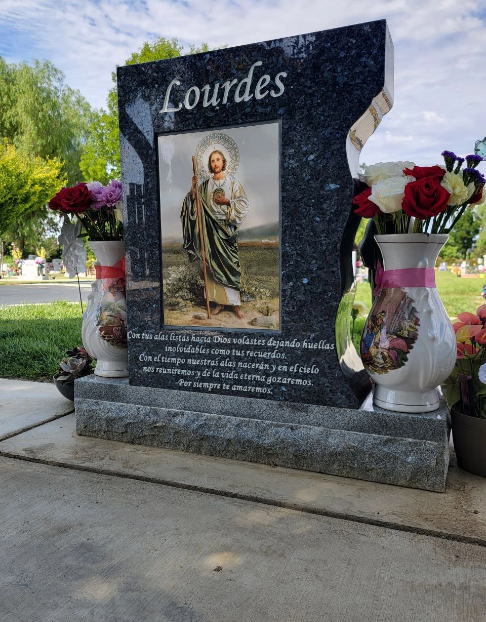 STEPS TO REQUEST YOUR CUSTOM MONUMENT
For your convenience, we offer a wide variety of headstone options. So whatever idea you have in mind to remember your loved one, you can find it at Forever In Stone!
01
Check all the headstone options we offer
02
Send us an email with the picture of an example you would like. You can include as much
information as you can about what you're looking for so that we can better understand
your needs.
03
We'll set up an appointment and get back to you with a quote for the project.
04
Once you approve the quote and our design, we will start the design and engraving process.
We'll keep you updated throughout the process and deliver the final product when it's ready.
We also have a variety of colors, including black, standard grey, india red, dark grey, sierra white, medium grey, and more. So you can trust you'll be able to personalize your headstone exactly the way you want.
ALLOW US TO BE THERE FOR YOU!

Don't continue looking for "headstones near me" in Turlock, CA, look no further than Forever In Stone. With our outstanding customer service, premium flat and bronze markers, and other custom monuments you can rest assured we'll be very helpful during your grief.
At our stone engraving company, we also offer free estimates for any custom request. We pay attention to the details to ensure you're satisfied with the final product. Contact us now and let us help you create a beautiful memorial for your loved one.