Get The Best Flat Markers For Your Beloved Ones
Losing a loved one is tough, and one of the hardest things to do is commemorate their life in a meaningful way. One way to do it is by getting a flat marker for the person's grave. Flat markers are especially good for grieving families because they are less expensive and easier to maintain than traditional gravestones.
Many different types of flat markers are available, and it cannot be easy to choose the right one. At Forever In Stone, we specialize in creating beautiful, custom monuments that will last a lifetime. We offer a variety of colors and styles to choose from; we also offer free estimates so you can make sure you're getting the best possible marker for your loved one.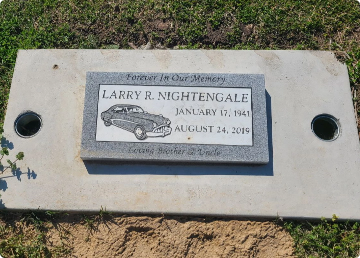 Why Should You Choose Flat Markers?
At Forever In Stone, we know that flat markers are a beautiful and simple way to commemorate the life of your loved one. But there are many other reasons to choose them over traditional headstones, including:
Appealing and Elegant: Flat memorial markers are the perfect way to create a simple yet elegant arrangement for your loved one. The design and colors will showcase their natural tone, giving it an authentic appeal that is hard not found in any other type of marker.
Versatile and Cost-Effective: If you're looking for an elegant way to memorialize your loved one, our skilled artisans design each marker in various materials like gold or silver so they can match any funeral arrangement while also being cost-effective and accessible at all times.
Increased Durability: Memorial stones are often intended to be long-lasting, so they need a material that can withstand rain and hail. Flat markers are also made out of bronze, a corrosion-resistant metal that will keep the memories of your loved one alive for many years to come.
Easy Maintenance: Straightening your flat memorial marker is easy to do with just water and dishwashing soap. You can use this simple cleaning process to restore the shine on all those markers that have been outside too long or are uneven due to storms.
WE OFFER A VARIETY OF COLORS
Here are the colors we use to build our memorials.

WE ARE A MEMBER OF THE
MONUMENT BUILDERS OF
NORTH AMERICA
We're The Perfect Solution For Your Needs!
If you want to commemorate your loved one beautifully and uniquely, look no further than Forever In Stone. With us you'll find many services to create the perfect tribute for your loved one, including custom monuments, bronze markers, bevels, slants, upright, other signs, and stone products.
We provide free estimates to ensure you're getting the best possible marker for your loved one. Don t hesitate to contact us today and let us help you create a beautiful and lasting memorial for your loved one.